S&B Design & Build Services
With over three decades of experience, S&B provides professional construction services utilizing the highest quality materials and superior craftsmanship.
We are a design and build company, which offers home owners and customers a complete package of services under one roof.
S&B's residential services include those listed. We also specialize in new construction with NUDURA® Integrated Building Technology. Homes built with their products are energy efficient, environmentally friendly, and have superior strength and maximum. Learn more about NUDURA by reading the information below.
Visit our photo gallery to see our projects. Ready to have the home or kitchen or bath you've always dreamed of? Contact S&B today!
Nudura Insulated Concrete Forms (ICF)
---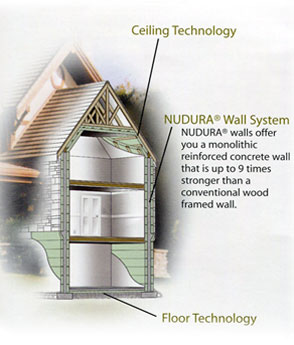 NUDURA Insulated Concrete Forms (ICF) are stay-in-place forms that offer you a variety of superior benefits when building your new home. NUDURA Forms consist of two panels of Expanded Polystyrene (EPS) foam that are connected together with our patented web system that are made of 100% recycled material. NUDURA Forms are stacked, then steel reinforced and filled with concrete, which completes the building envelope of your home in one building step. NUDURA Forms are available in a variety of shapes and sizes to accommodate all types of building requirements and designs.
Insulated Concrete Forms provide substantial benefits over traditional building methods. The combination of rising energy requirements and rising fuel costs, mean that we need to make the most of building technology to heat and cool our homes. This requires a whole building approach to design, which doesn't have to be complicated. NUDURA Insulated concrete forms are energy efficient construction materials that provide maximum comfort and energy solutions for your entire home.
Click here to download NUDURA's home construction brochure. To learn more about the company and this innovative technology, go to www.nudura.com.